1921 – 2013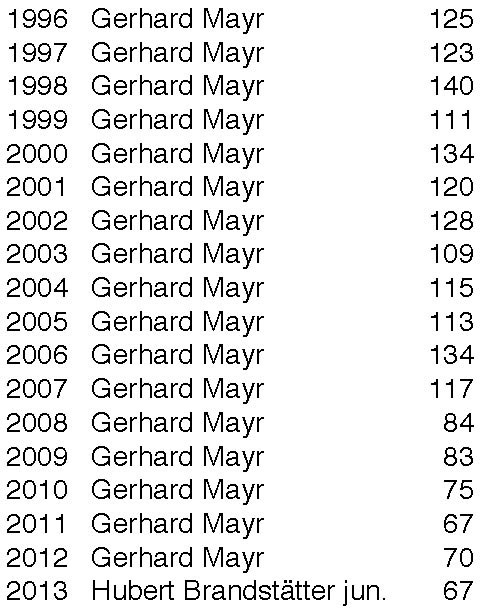 No official records before 1921

The list of Austrian Professionals reflects very well the turbulent history of the sport as the history of the country itself, even if the official records only began in 1921. First champion was Charlie Mills, a legendary driver who left his legacy in many nations. Born in Hamburg in 1888 as a son of there dedicated Irish trotter trainer Anthony Mills in 1888, he grew up directly at Bahrenfeld-racetrack, won countless derbies in Germany and Austria and led from 1933, the legendary stud Lindenhof Templin, which Bruno Cassirer overwrite it because of the political turmoil. For Cassirer, Mills won with Walter Dear the Prix d'Amérique. Amazingly, it was Charlie Mills set to stay until the end of the war in Germany, left his homeland in 1947 to build a new life with another 60 years in France. Mills died in Switzerland in 1972. In Hamburg, a street is named after him, the Charlie Mills race is held annually at Berlin-Mariendorf in his honor.
Almost as legendary are the names of these times George Wiltshire and Otto Dieffenbacher. The latter, born in 1885, won 1931 and 1932 the Prix d'Amérique with US-bred Hazleton, worked for many years in Italy from 1927 (incidentally next door at San Siro next Ettore Barbetta, who won the Championship of Baden in 1912), was 1915 (17 wins) and 1917 (39 wins) Champion in Germany, 1924 and 1925 and then again as a 75-year-old in 1960 (!) Austrian champion of professional drivers (ex aequo with Ernst Fischer). Otto Dieffenbacher won his last race in Austria in 1964 as a 79-year-old and died on 27th of April 1969 in Vienna. He won four Derbys, 1917 Bedelia Todd in Germany, 1928 Appia in Italy, and in 1925 and 1948 in Austria (with Venus and Schnapp).
In 1931, Fritz Irsigler won the first of his nine championships (he is also the absolute "Derby King" with 10 victories), in the fifties and sixties of the last century, he moved thereby almost in step with Ernst Fischer, then apostrophized as "eternal gold helmet carrier." Fischer (1910 - 1980) was forced to flee as a Jew before the Nazi occupation and during this time was Romanian Champion with the horses of the local King Mihai I. Ernst Fischer also was European Vice-Champion of the first European Trotting Championship in 1970 at Recklinghausen, Germany.
In the 1970s, the star of Adi Übleis (World Champion 1971, European Champion 1971 & 1974) was rising, together with Dieter Marz, Konrad Spaderna and Johann Scherber (record champion with 224 victories in 1980) he dominated until the nineties, when should finally start the supremacy of Gerhard Mayr. The native of Salzburg is the uninterrupted sequence champion driver since 1992.
In 2013, this run was stopped by Hubert Brandstätter junior, a native of Upper Austria, now living in Vienna.