With 30 years still an unique horse personality
This article is about the world's greatest trotter, even every fan has his own fovorite. The trotter, who broke many records including to be the first under the magic mark of 1:10 (Europe), won the Hambletonian of 1987 in a sensational way (John Campbell said, Mack wasn't really sound that day but he knew exactly where the finish line was – then he broke…), went to Europe to win many of the classic races and then was successful as an "Elite-Stallion" in Sweden too. The author of this lines met Mack Lobell a long time ago when the horse was winning the "Großer Preis von Bild" in Hamburg, Germany in the year 1990 with Thomas Nilsson in the bike in front of an audience of 20.000 excited people. It was his last race before going to stud.
So it was a great pleasure to meet the horse again in a perfect shape at his home stud Menhammar in Sweden last November, after he suffered half a year earlier, so swedish journalists have been informed by Menhammar Stuteri to prepare an obituary about the horse…
But, like as a racehorse, Mack Lobell never gives up. When I went with his groom – finnish born and swedish raised Titti Karppanen – to his paddock, Mack just ignored us. Titti told me, that we had to go exactly to a special gate, then he will come. And he did. Fresh like a sophomore colt he trotted like in the old days to get his food. And, Superstars have their own will, he just likes small carrots and refuses big ones. And he only likes a special kind of pellets. Titti took him out of the paddock to brush down the swedish mud a little bit and took him into a stable. Then she showed me what she has learned the horse. He goes to the pellet-box, puts his head inside and takes his whole mouth full with the food. And then he stands with his mouth full of food like a champion… Titti told me that Mack is her overall favorite horse, and she had seen a lot of world class trotters, especially when she was in the United States at Menhammar's US-branch in Kentucky where she groomed another special horse, Express Ride, who was a stallion at Menhammar too until is death in 2005.
Mack Lobell earned over 3,9 Millions of US-Dollars in his career and is still the 4th most winning horse of North America behind Moni Maker, Arch Madness and Peace Corps (and still in the Top-10 of the world as the oldest horse…). He is a son of Mystic Park, representing the Victory Song/Noble Victory/Noble Gesture-paternal line, which was then extremely successful with Balanced Image, before this line exploded once again (in this case over Abc Freight) with Garland Lobell and his sons like Andover Hall, Conway Hall, etc. Mystic Park himself had only 6 crops before his early death, his best horse after Mack Lobell was the filly Park Avenue Kathy, she died in a fire accident in Italy without leaving any offspring. Mack himself is out of the Nr. 1 maternal line, Medio (Miss Bertha Dillon), which produced horses like Peace Corps, Victory Tilly, Sea Cove, Friendly Face, Nike Hanover, Arndon, Britelite Lobell, American Winner, Andover Hall, Conway Hall, up to Cantab Hall, and also some important Pacers like Bret Hanover, Artsplace or Cambest. Mack Lobell managed to sire good and was named as an "Elite Stallion" in Sweden with 2 fillies at the top of the rankings, Mack Action As and Sissela As. It seems that none of his sons could continue his line, but he is an extraordinary broodmare-sire with offsprings like the great Commander Crowe, Malabar Circle As, Jaded, Sanity, Orechietti or Carolyn As.
Mack will turn 30 years old on April 24th. I've been told by Johan Hellander, big chef on veterianian causes, there will be a big birthday party at April 28 at Menhammar (like they did for 5 time in a row stallion champion Zoot Suit in the year 2003). And, if everything goes well, John Campbell, who drove Mack Lobell during his US campaign, will join the party.
Another great day for Menhammar after winning the Prix d'Amérique 2014 with Maharajah.
Following, are some memories of famous horsemen about Mack Lobell:
John Campbell, Driver (from HOOF BEATS, 1994):
He is the best horse I've ever driven. He proved to me that he is the best by acting on the highest level year by year.It was simply exhilarating to drive Mack Lobell. Every time when I was driving this horse I was thinking, "yes, that is something special". It took some time until Mack had found himself to be a good racehorse. I didn't drive him in his early 2-year-carrier, but when I took over in summer, I recognized that he got great speed, but he was some kind of unalert. When I was driving him at Du Quoin in 1986, Mack was leading and simply broke. There was no horse around him, he just forgot that he was racing. Just a short time later he was another horse. It was not reasonable, but it was. We knew how much speed Mack Lobell has, but it's not clear at all if one horse really reach his top potential. Many horses show a lot of projection, but then they give up.
Mack Lobell trotted a world record at Delaware, then he raced at Lexington in 1:11,8, a world record again for two year olds, then he won the Breeder's Crown.Mack Lobell was so good as a 3 year old that it's difficault to pick out some highlights. And that was it what made Mack so great. He won the Hambletonian in a world record time. One week before he won the "Beacon Course" in 1:10,9 and I don't know how much faster he could have raced if I would ask him. He was just jogging.At the Hambletonian day he wasn't sound. The track was hard and his legs suffered him. He was leading the race and when he was tiring his steps, I knew that he had some problems with his legs. He just wasn't  so sound like one week before in the Beacon Course. But in the Hambo he showed character. I was full of admiration. It wasn't like always, but it wasn't a mental problem. I told Chuckie Sylvester that the hard track isn't good for him. We changed the shoes after the first heat. That is some secret of success of Chuck, he is very flexible.

Dean A. Hoffman, legendary harness journalist and book author, USA:

I have so many memories of Mack… from his races in the USA, especially the March of Dimes, up to the Elitloppet in 1988. (Dean ranked Mack Lobell 2nd at his personal Top 10 horses behind Ourasi.)
Jürgen Gaßner, Hall of Fame, Germany:
I saw that fantastic colt first as a 2 year old in the Peter Haughton Memorial. He came from far outside and finished second. His later duels with horses like Napoletano, Ourasi and Sugarcane Hanover are legendary.
Truls Pedersen, chief editor Trav og Galopp-Nytt, Norway:
Mack Lobell was a great one! He had his mannerisms but his remarkable technique and his enormous capacity made him to one of the best racehorses ever.
Claes Freidenvall, chief editor of Travronden, Sweden, 
ranks Mack Lobell 6th at his personal Top 10 horses behind Varenne, Idéal du Gazeau, Ourasi, Continentalvictory and Muscle Hill.
Ettore Barbetta of Trotto&Turf, Italy,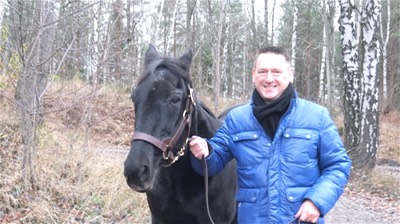 ranks Mack Lobell 6th at his personal Top 10 horses behind Varenne, Ourasi, Greyhound, Bellino II and Roquepine.


Links:
Video Hambletonian 1987 Mack Lobell
John Campbell talks about Mack Lobell
Most successful horses of Menhammar Stuteri

2014_02