31 Sires (as of 2020_011)
It was one of our first articles on www.breedingtrotters.com. The list of the Swedish Elite Stallions grew constantly and we have now brought it up to date.
It was 1986 when the first stallions were awarded this title, 31 to date. The huge proportion of stallions comes from North America, namely 23, four from France and two each from Italy and Sweden, with the two Swedish stallions being the youngest in the list.
Now one might wonder which of these Elite Stallions had a lasting effect on trotter breeding. On the one hand, this is not easy to answer and in many cases remains purely hypothetical, on the other hand, for the stallions who have only recently joined them, in many cases it is much too early to be able to make a judgment.
We try anyway, chronologically: Pershing was able to record partial successes over his best son Mack the Knife, his son Atas Rocket sired the Swedish Derby Winner Jolly Rocket. Pershing also got the benefit of being included in the French stud book. Of all his offsprings, his son Blue Dream ultimately had the most influence on further breeding.
Quick Pay immortalized himself with the most winning Swedish trotter of all time, Victory Tilly. The world record holder, the first trotter under 1:09, was unfortunately a gelding. His son Atas Fighter L. left his mark without being able to continue this paternal line. The same goes for Speedy Spin and unfortunately also for Tibur. The dominant French sire was unable to continue the sire line with his world-class offspring such as Callit, Piper Cup or Big Spender, or with excellent pedigree sons such as Ata Star L.
The same goes for Count's Pride and Smokin´ Yankee, while things are different with Zoot Suit. The legendary son of Nevele Pride out of a Pacer mare was able to win the Swedish Stallion Championship five times in a row and his line is still active thanks to his outstanding son From Above, but unfortunately that has not (yet) had a successor in the breeding barn.
None of the following elite stallions were able to continue their line despite singular successes. This goes from Crowntron to Texas, Mack Lobell, Sugarcane Hanover, Lindy's Crown, Alf Palema, Spotlite Lobell to Super Arnie (his son Gigant Neo was certainly not a bad stallion) and Express Ride (an enormously influential stallion, but enough for a continuation of his line?).
From here at the latest, however, a huge turning point can be observed. Suddenly other calibres of stallions appear, all of which have the opportunity to continue their stallion line. In 2007 four stallions were given the title "Elite", all of which have had an enormous impact on international trotter breeding.
– Pine Chip sired Scarlet Knight, himself an elite stallion, who may be able to provide one or the other son for breeding (for example via Infinitif or also Dream Vacation). 
– Supergill is a long-runner with his son Toss Out and his sons.
However, the two other stallions from that year were much more influential, especially this one:
– Coktail Jet. Without a doubt, this horse can be called the non plus ultra of the Franco-American trotting breed. He himself, his offsprings, especially his son Love You and his numerous sons, have a lasting influence on European and, in some cases, American trotting breeding.
– But there is also the legendary Italian Viking Kronos, who almost stormed the title "Elithingst" with his descendants. Above all, Maharajah and Raja Mirchi should be mentioned, Elite Stallions themselves, but also Joke Face, who died too early, Yield Boko, Going Kronos and many more.
Three years later:
– The American Credit Winner becomes Elithingst, his sons such as Chocolatier (and his sons like Chelsea Boko or El Mago Pellini), Crazed, Panne de Moteur, etc., are an integral part of trotting breeding.
– Muscles Yankee and S J's Photo get their merits, their father lines are indispensable in the long run.
Two years later, the already mentioned Love You becomes the third French on the list, and Scarlet Knight has also been merited. On the other hand, the Italian Varenne, still the most winning trotter of all time, has remained a certain outsider in the Swedish stallion landscape despite his award as an Elithingst, possibly also due to his high stud fee. That his sons (such as Twister Bi or Arazi Boko) will continue his line seems certain for the time being. 
Then it took another four years until the next swing of Elite Stallions have been nominated. These were Conway Hall (whose full brother Andover Hall is lagging behind his international success in Sweden for some unknown reason) and the outstanding Frenchman Ready Cash. His many sons like Bold Eagle, Readly Express, Brillantissime, Bird Parker, Django Riff, Traders, Cash Gamble, Charly du Noyer, Face Time Bourbon, Gotland and so many more will become or already are excellent sires themselves.
A year later, Muscle Hill was given the award, which he naturally deserves. As with his European counterpart Ready Cash, Muscle Hill is also sending one new stallion after another to the start, we only mention Southwind Frank, Resolve, Bar Hopping, Tactical Landing, What The Hill, Trixton, EL Titan, Campo Bahia, etc (and, we should see what will now happen to Propulsion…).
And a year later, Swedish stallions finally found their way into the list of Elite. These are Maharajah and Raja Mirchi, both descended from Viking Kronos. The former in particular already has a number of sons who can extend his line.
Finally, it is worth taking a look at those stallions who in turn sired sons with the title "Elithingst" (and that started very late which is also the Conclusion of this article):
Coktail Jet      ---> Love You
Pine Chip       ---> Scarlet Knight
Viking Kronos ---> Maharajah
                       ---> Raja Mirchi 
A final look into the future: It will come as no surprise that the sons of Ready Cash and Muscle Hill become successful stallions and therefore Elite Stallions very soon. Another point is the renewed hype about the entry of the Pacer into the world of European trotters, especially with Googoo Gaagaa. It couldn't be any faster, as his son Power is already announced in Sweden for 2021.
In our opinion, the French stallion Orlando Vici should also be awarded the title "Elithingst" in the near future. This stallion is quite a breeding sensation, as it brought back to life the more or less extinct line of the American line founder McKinney.

Breeding Trotters remains extremely interesting, from whichever perspective you look at it...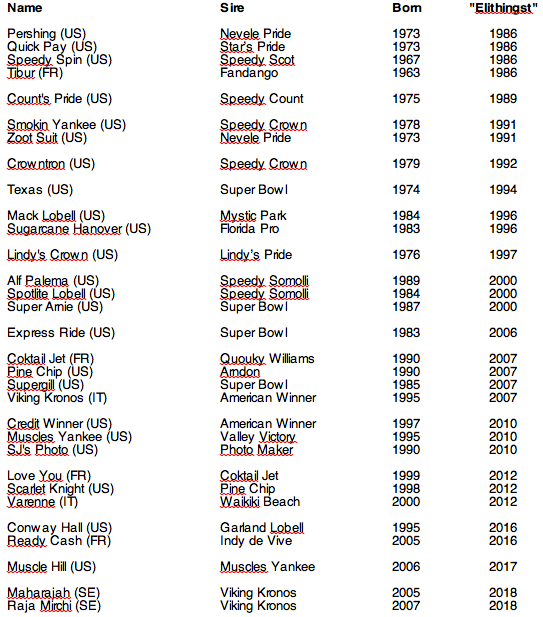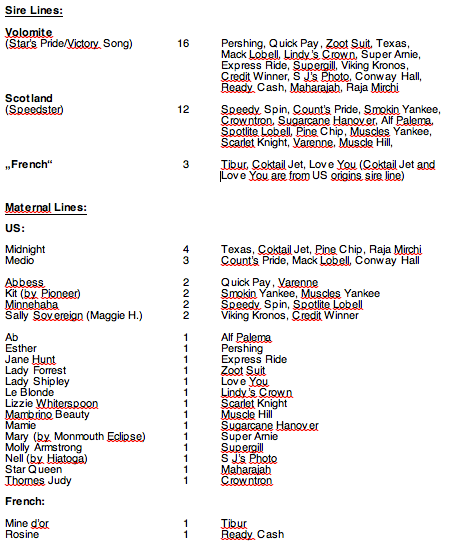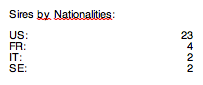 2013_04 / updated 2020_11