A guest article by Prof. Ulf Lindström

Nahar sets a new world record for the middle distance – in November, 1:10.5. No, the Solvalla race track has not left other Swedish tracks behind, but the gap is widening. Soon Solvalla's races will finish in faster than 1:12-times compared to the common 1:14-time on the average Swedish track.
The tracks still keep pace with one another, lowering the winning times. As a rule, Solvalla sees races that come home at 1:12, Halmstad, Jägersro and Åby 1:13, Bergsåker, Eskilstuna and Örebro "almost-1:13." Halmstad's improved record this year bears the mark of the Untersteiner family, pere & fil, the latter who recently set up shop in his hometown. Jerry Riordan too wasn't a bad addition to the corps of trainers.  
Year-around tracks usually finish their races in the 1:14 to 1:15 times. The table presents data for the span between the best 25th and 50th horses each year since 2009. The data are for horses (all sexes), 5 years old and up, for 2100m auto. (This is to check for the effect of the V75-circuit, which at smaller tracks would not be representative for the average standards of racing across Swedish tracks.)
Times at tracks that have seen their performances drop compared to the previous years are marked in red. For some curious reason the 2010 data show a systematic drop of performances also at the big tracks.
Bollnäs, Eskilstuna, Romme and Örebro – all within 3 hours by car/horse transport from Stockholm – have registered the best development since 2009, cutting the span by minimum 1 second at least one year.
Of the all-year tracks Boden, Umåker och Östersund are attractive for entering the average horses. The purse money should, however, be seen relative to the cost of transportation. Of tracks that are commonly referred to as Summer tracks (racing between April and September) Arvika, Visby and Åmål are less competitive than Rättvik and Årjäng. (Dannero's record for 2014 reflects the entering of horses from nearby Bergsåker.) Somwhat surprising – since neither distance or season are excuses – the times required to score money at Lindesberg and Vaggeryd are not out of reach for the average horses.
Event tracks, like Karlshamn, Tingsryd, Hoting and Lycksele are for those connections that value both purse money and experiencing a kind of fair milieu…
Time intervals for 25-50 fastes horses, 5 year old and older, 2100m auto, 2009-14.
Red entries mark setback in time compared to year before. Blue entries mark improvement of minimum 1 second at least one year since 2009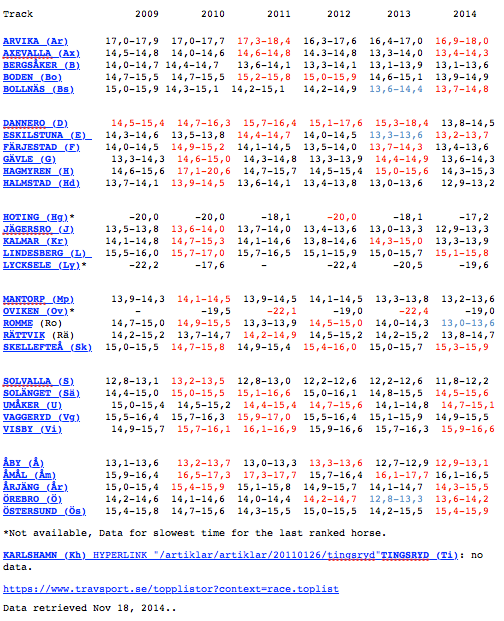 2014_12