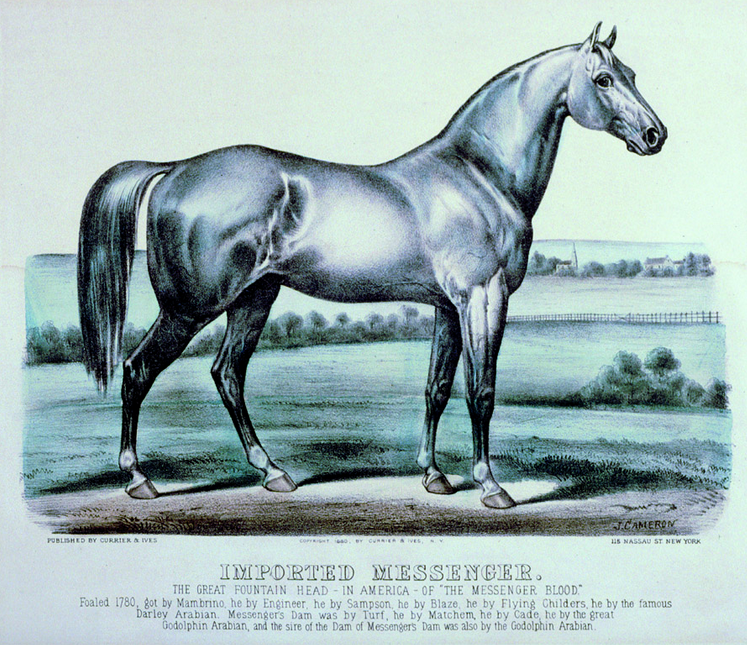 "The white color is dominant, a gray mare can thus be homo or heterozygous mold. In heterozygotes, a black stallion gets 50% mold out of 50% mildew. In homozygous mold, a black stallion is 100% moldy."
Dr. Barbara Wallner, VetMedUni, Vienna
"Of course, the "founder" of the breed – Messenger – was grey. He was imported from England in 1788 and had impact on both Standardbreds and Thoroughbreds. The grey trotting mare Lady Suffolk was a champion in the mid-1800 and there was even a famous song written about her as she got older and lost some of her speed.
The old grey mare....she ain't what she used to be. She was quite famous in her time and one of the true early stars in the American trotting sport.
Of course, Greyhound was on the track for a long time and he is often credited with keeping interest in harness racing alive during the Depression years of the 1930s. Because he was a gelding, he just kept coming back every year. 
It was hard for him to find competition after a while. He races at ages 2,3, and 4 but at age 5 he raced only twice--and won both. But the rest of the time he was giving exhibitions and going time trials.
In 1938 Greyhound won all 10 of his heats – and Rosalind was second to him in each race. That's when he set the 1:55-1/4 speed mark for trotters. 
It's hard to imagine what a small sport trotting was in the 1930s and then the war years of the early 1940s followed and trotting continued to be an afterthought in America.
There have been many famous "colored" trotters since Greyhound---the ill-fated filly Merrie Annabelle was roan and she died after a sensational 2-year-old season. 
Red Rhone was also roan, not grey, and he was a star in the American Midwest in the 1989-90 years. He raced against Mack Lobell and Peace Corps once in his life – and finished ahead of them both times.
The grey pacer Laag was a sensation in 1986-87. He bred a lot of mares when he retired and had great success at first, but then had less success and died fairly young, as I recall.
Those are the ones that come to mind now. I could add others and perhaps I have overlooked some grey/roan horses, but that's my initial thought.
Dean A. Hoffman, legendary harness racing journalist
The Netherlands:
Action Skoatter was in the mind of your author the fastest starter ever seen. Even one of the greatest trotter of all times, Mack Lobell, had to let her pass at the very first part of the race.
Austria:
Star Light was an essential trotter in the 80s, maybe even the best in his crop, but he made a lot of breaks, also in the Austrian Derby of 1985. But there have been grey Austrian Derby Winners like Adria and Daniel.
Czech Republic:
Sabbath was an outstanding trotter and sire, coming from the Russian Orlov Trotter Line. So we immediately transfer to...
Russia:
The Orlov Trotter
This breed of trotters was the first to coincide with the American standardbred and the French Anglo-Norman trotter, who co-founded our sport today and shaped it for a long time. From this three breeds, the Orlov lost speed during the decades, but is still active in some countries.

Italy:
Watch that movie!
Sweden:
Tap In was a real Freak at the racetrack, he was sold to Sweden and brought a lot of good trotters compared to his low stud fee.Today's experiments, such as with the American Pacer White Bliss, fizzled so far. One nice colored horse here.
Unfortunately, at the end we have to say that the horses with the white or gray mane disappear more and more. However, this applies exclusively to the harness racing sport, the thoroughbreds have still many mold at work.
Many thanks to Ettore Barbetta (Italy), Jürgen Gassner (Germany), Ulf Lindström (Sweden), Dean A. Hoffman (USA) and Janet Terhune (USA/Director of the Harness Racing Museum & Hall of Fame) for their big help.
Axworthy-Article in German Language with a lot of Greyhound pictures
Help us to fill up the list. Write us about white/grey/roan horses under info@breedingtrotters.com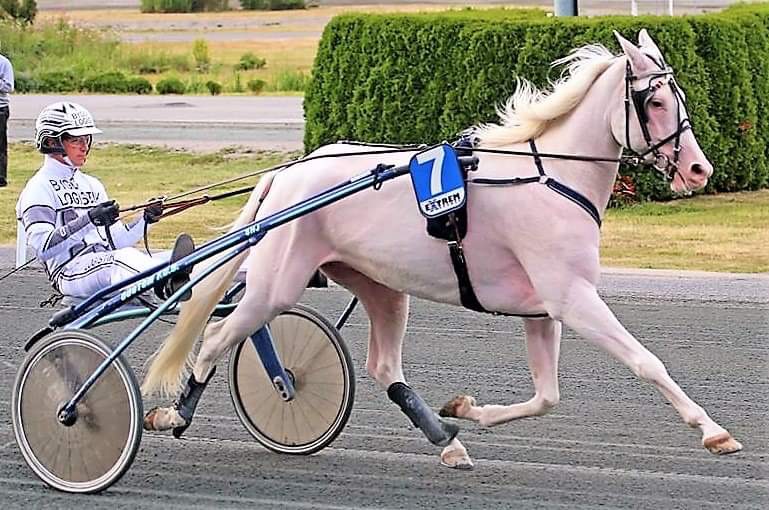 2018_06