The ideal link to harness racing?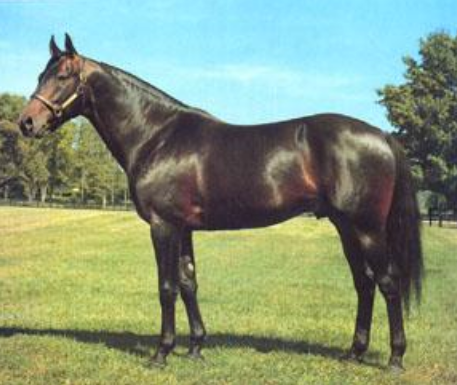 Sure, on this website we talk practically exclusively about trotters, not about pacers (if you exclude the stories about Googoo Gaagaa), since they are more or less not present in Europe.
But we want to make an exception.
Of course, your chronicler is also interested in the pedigrees of the Pacer, especially when it comes to Line- and Inbreeding. And there was no longer to be overlooked the immense presence of Abercrombie.
The decisive factor for this article was the obvious resounding success of the stallion Captainreacherous, who is linebred 4x3 on Abercrombie.

We now want to document further examples of the inheritance power of Abercrombie, born in 1975.
Before, we want to have a look at the pedigree of Abercrombie. He is 5x4x5 linebred on the hugely influential Pacer Stallion Abbedale (born 1917). And his sire Silent Majority was 4x3 inbred to the important sire Billy Direct.
And – he is 4x4 linebred to the most interesting stallion Nibble Hanover (born 1936), the only stallion in the history of North America who sired a Hambletonian winner (Miss Tilly, born 1946) and a winner of the Little Brown Jug (Knight Dream, born 1957). Nibble Hanover also established himself as a great damsire, such as from Bret Hanover.
Just a reminder: Nibble Hanover has a flawless trotting pedigree. 
We found the following horses that are heavily influenced by Abercrombie:
Always B Miki (4x3)
American Rage (4x3)
Arvie Hanover (4x3)
Captain Barbossa (5x4x4)
Captain Crunch (4x4)
Captaintreacherous (4x3)
Donau (4x2)
Dude´s The Man (4x3)
Filibuster Hanover (4x4)
Foiled Again (4x3)
Hayden Hanover (4x4)

Huntsville (4x4)
Mr Feelgood (3x3)
Papi Rob Hanover (4x5x5)

Rock N Roll Heaven (4x4x3)
Southwind Ozzi (4x4)
Stay Hungry (4x5)

Vegas Vacation (4x4x4)
Wiggle It Jiggleit (4x4)
Horses with Abercrombie in their near pedigree:
Captainreacherous Hanover Shoe Website
Special thanks to Dean A. Hoffman and Janet Terhune of the Harness Racing Museum in Goshen.
Finally, we want to go into the fact that recently (and especially with Googoo Gaagaa standing in Sweden now) some efforts have been made to breed with Pacer blood in Europe again.
That can work out or not. And in most cases not, whatever the reason may be. (We have to exclude the Swedish star Don Fanucci Zet, trying to win the Swedish Derby this year.)
The only really resounding success of a half-pacer was and remains Zoot Suit, five-time champion stallion in Sweden. He was bred by Norman Woolworth from Nevele Pride out of the Pacer Mare Glad Rags by Greentree Adios. Swedish trotting people are still full of admiration for the offsprings of Zoot Suit, the most common expression is: "Zoot Suits never gave up."
His son From Above, Elitloppet-winner from 2003, continues his father's line successfully, it remains to be seen whether this branch of the Star's Pride line can survive.
"I have been doing the sale thing for almost 60 years and last year's Lexington sale was by far the best sale I have ever attended. In fact, the only one that compares in my impaired memory was the Tattersalls when Abercrombie had his initial crop go to market."
Ron Gurfein, Lexington 2020
2020_07